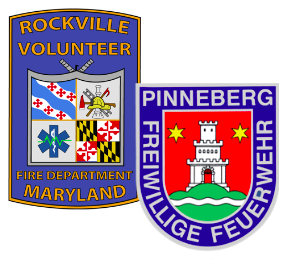 Dear President of the Rockville Volunteer Fire Department Erik Bernard,
dear Fire Chief Jim Vagonis,
dear Members of the Rockville Volunteer Fire Department,
the comrades of the Pinneberg Volunteer Fire Department send you all the warmest greetings at Easter.
We are very concerned about you. In the news keeps getting new reports every day that more and more people in the US are getting Covid-19.
We are struggling with restrictions in the fire services and in business and private environment. But currently we're all still fine. We fight the virus and loneliness and isolation with all means. We stand by our brothers and sisters from the Rockville Volunteer Fire Department even in this difficult time.
We think of you and hope to see you all well soon. Our prayers are with you.
We can hardly wait that this difficult time is finally over, the restrictions will be reduced and we can get in personal contact with you again.
God bless you, God bless America.
On behalf of all members of the Pinneberg Volunteer Fire Department
Claus Köster
Fire Chief Pinneberg Volunteer Fire Department
Und hier die Antwort aus Rockville:
Thank you to our brothers & sisters of the Freiwillige Feuerwehr Pinneberg for your special Easter well-wishers. We too are wishing you all the best during the difficult times. We all look forward to seeing you again (in person) very soon. We will certainly celebrate health and happiness together! Happy Easter from you family at RVFD.
Pinneberg has been the Sister City of Rockville since 1957. In 1992 The volunteer firefighters in Pinneberg & Rockville started a partnership which has now lasted over 25 years. We are extremely proud of this one of a kind relationship. It exhibits the true #brotherhood of the fire service as well as the best of both the German & US culture.